I am swimming in an underwater grotto. The crystal-clear blue water, the coral-colored rocks and green vegetation form a beautiful background around me. Suddenly, I sense that I'm being watched. I turn. I cannot believe my eyes.
Floating only a few yards away is a young woman wearing nothing but strands of green seaweed wrapped gracefully around her body. Her golden hair fans out around her face, perhaps the most beautiful face I have ever seen. My eyes nearly pop out of my head when I see that instead of legs, she has a long silver-green tail.

I freeze in amazement, suspended in the water as our eyes meet. I blink my eyes shut behind my snorkel mask in total disbelief and shake my head to clear it. My eyes open, and she is gone.
I jumped up in the bed: 4 a.m., according to the red numbers on the motel-room clock.
That dream again.
I put my feet down on the floor and sat on the edge of the bed. I had had that dream off and on for more than 30 years. It always haunted me. It was as though I had been there once and seen that grotto and that girl somewhere. But I couldn't remember where or when.
I was in Florida, on the last day of a business trip. Another dull convention to cover for a legal publication, but I would be returning to the home office the next day. I was on treasure Island on Florida's west coast, just above St. Petersburg Beach.
I started to lie down again, when suddenly it hit me. I remembered where I had seen that place before. It was Weeki Wachee. Wow. Now it was all coming back.
It was winter 1963. I was in college, and every Friday night at 8:30 I was glued to my TV set, ready to watch the next episode of one of the greatest TV series ever, "Route 66." Two guys in a Corvette on an existential journey across America to discover the country and themselves. It was a show that taught me a lot about myself and created my urge to travel. To keep moving on to the next horizon.
It was filmed on location — each week a different place, each week a different story. In four years, the show visited a great number of America's cities, towns and hamlets, many of them far off Route 66. One of them was Weeki Wachee Springs, Fla.

It had been a long time since I had seen that particular episode, but it all came back to me vividly. The two guys in the Corvette, Tod and Linc, got jobs at Weeki Wachee, a water park that had live mermaid shows. One day a young girl dressed only in seaweed swims into the river from the Gulf of Mexico and gets a job in the show. She's beautiful and strange and claims to have come in from the sea.
Tod falls in love with her but thinks she is conning everybody to get into show business. At the end, he is left heartbroken when he fails the final test of faith and loses her forever.
I remembered how I was haunted by the story for years, and I often wondered if Weeki Wachee really existed or if the TV producers just made it up for the show. The years passed and I forgot about it — except that occasionally that dream would come back.
I got up and turned on the light. I knew the time finally had come. Finding a map in my briefcase, I spread it out on the table beside the bed. I ran my finger up the west side of the Florida peninsula, past Tampa, Tarpon Springs and, finally, there it was: Weeki Wachee. A small dot just a few miles inland from the gulf. I had to know if the place was a fantasy or not. I picked up the phone and dialed information.
"Do you have a listing for Weeki Wachee Springs? A theme park?"
There was a pause. "Hold for that number."
By 9 a.m., I was checked out of the motel and in the rental car, driving over the causeway that leads out of Treasure Island.
By the way; Treasure Island is a nice resort with huge white beaches and a strange history. The name and the pirate motif you see everywhere might lead you to believe that this is yet another spot where Blackbeard and his cohorts hung out between attacks on cargo-laden frigates — but you would be wrong.
In the late 1800s, a man by the name of Harrell owned the only hotel on the island and got a bright idea. He buried two treasure chests filled mostly with lead and rocks but laced them with some gold and jewels. He declared to the press that he had found buried treasure and that plenty more probably existed on the island. He led a horse-and-wagon cavalcade to the bank on the mainland and deposited the contents of the treasure there.
The hoax worked. It created a land rush, and soon more hotels and homes were being built than you could shake a stick at. Now it is one of Florida's prettiest west-coast resort areas. Here's to Mr. Harrell, a true entrepreneur in the great American tradition!
As the island receded in the rear view mirror, I thought it ironic that my odyssey to discover the reality behind my mermaid dream should begin in a place with such a fictitious origin.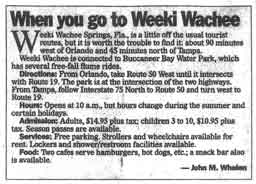 I got directions to Weeki Wachee from Kim Burich, the park's general manager, to whom I talked about 8:30. I told her I did some freelance travel writing and wanted to do a piece on the spring. I took Interstate 475 North from St. Petersburg and followed it until it became Interstate 75 somewhere north of Tampa. I turned west on Florida Highway 50.
I came to the intersection of 50 and Route 19 a few minutes before noon and there, just off to my left, like Oz, gleaming in the light, stood Weeki Wachee Springs. I parked in the free lot on the left side of the park and was greeted at the gate by Beth Thomas, who was to be my guide. Ms. Thomas is a gorgeous brunette who came to the park 10 years ago and is the mermaid manager.
"We have a small museum on the grounds," she said as we walked; "I understand you're interested in the 'Route 66' episode that was filmed here. We did some checking, but unfortunately no one who was here at the time the show was filmed is still working here."
"It was a long time ago," I said.
"However, in our museum, we have some photos of the 'Route 66' cast, and you are welcome to look at those."
The small building she led me to was a combination snack bar and museum. Framed photographs lined the walls. The photos included shots of several entertainment luminaries, including Arthur Godfrey and Elvis Presley, who filmed one of his movies there. Those didn't interest me.
A short, jocular woman named Cathy stood behind the wooden bar where the hot dogs were being grilled. On the bar were two framed shots that had been removed from the wall just for me. One was of Martin Milner, who had played Tod. The other was of Glenn Corbett, who had played Lincoln Case. They were as I remembered them: young and vital. Mr. Milner was the more cerebral, intellectual type, Mr. Corbett the true man of action.
I took my camera out and tried to get some shots of the photos. Then Ms. Thomas pointed to a photo of Diane Baker, who had played the real-life mermaid on the show. There she was, standing at the water's edge, dressed in the mermaid's seaweed costume. It was the same one I had seen so many times in my dream. Miss Baker, now in her 60s, has had a long career in both television and film. She's still acting but works mostly as a producer and director.
It all really had happened — and it had happened right there. Ms. Thomas filled me in on the park and its history.
Weeki Wachee is Seminole Indian for "Winding Waters." Weeki Wachee Spring is the surfacing point of a huge underground river that snakes its way for 12 miles to the Gulf of Mexico. The spring, measuring 100 feet across, has been explored to depths of 150 feet and probed another 400 feet. It pumps out 170 million gallons of 98.7 percent pure water every 24 hours. The temperature of the water is a constant 74.2 degrees. No one has ever found the bottom.
The lake at Weeki Wachee Spring apparently was known to prehistoric man and later the Seminoles. In 1946, Newton Perry, who had been a Navy frogman and swimming instructor, conceived the idea of staying underwater and breathing through an air hose supplied with air by compressor. He came to Weeki Wachee and perfected hose breathing.
Because of the extreme clarity of the water and the beautiful submarine terrain and plant life, he saw the possibilities of producing an underwater show. He built a small dugout-like theater in the side of the spring that held only 13 persons, and the first underwater show was performed Oct. 13, 1947. Shows have been given continuously since then.
In 1959, ABC bought the park and built a large multimillion-dollar underwater theater from which the shows are viewed. A firm called Weeki Wachee Springs has since taken over ownership.
I snapped a shot of Ms. Thomas looking beautiful, sitting on a stool in front of the bar. I couldn't help asking:
"So how long can you hold your breath?"
"About two minutes," she replied. "Some of the girls can go as high as four minutes. We had one mermaid who was on the 'That's Incredible' TV show who held her breath seven minutes."
I thought she was putting me on. "Seven minutes. That's impossible. Dolphins and whales can only stay down seven minutes," I said.
Then she let me in on a little secret. The air hoses from which the mermaids breathe contain a mixture of oxygen and carbon dioxide. When it is inhaled at a depth of 85 feet, the lungs are fully saturated with oxygen. The mermaids can stay down a minute or more at that depth. When they rise to about 30 feet, the carbon dioxide expands their lungs and that provides them with more oxygen.
The park employs 25 mermaids and takes in several new ones every year. Ms. Thomas said it takes an average of one year of training for new hires to become mermaids.
"The most difficult part is learning to breathe from the air hoses, but once that is learned, it's never forgotten," she said. The rest of the time is taken up learning the complex choreography of the underwater show.
I thanked my guide and headed for a boat ride. I followed a path through the park, which is beautifully maintained and features only real plants, flowers and shrubs — not one plastic imitation anywhere. There are no mechanical mice or singing toadstools either; it's just a clean, natural place. It was mid-February, a beautiful, sunshiny Florida day with temperatures in the upper 70s. Weeki Wachee makes every effort to preserve the old Florida.
A tour boat takes about 40 passengers along a portion of the Weeki Wachee River. It's a fascinating ride. Along the way, you see pelicans nesting in the trees — until they swoop down and land on the roof of the boat.

Blue heron and white cranes also appear, and raccoons forage in the forest near the riverbank. An alligator swims along occasionally, I was told, but none could be seen that day. Two manatees that had come in from the gulf several weeks earlier were lying on the bottom near the bank.
The boat was captained by an avuncular seaman who was expertly navigating the many twists in the waterway and steering close to the animal action. He had the usual comic banter that is routine for such excursions, but for once, it wasn't annoying.
The half-hour ride is one of the most relaxing and interesting little boat rides possible. Then it was on to the underwater theater and the show.
The 550 seats arranged amphitheater-style face windows made of 4 inch-thick Plexiglas that looks into the clear water of the spring. Viewing is ideal from any spot in the theater, which has a panoramic view of the spring, which plunges down off to the right into its unreachable source.
Original music floated out of overhead speakers, creating an enchanting siren sound that gave me goose bumps, and the show began. This year, it's the Weeki Wachee version of Hans Christian Andersen's "The Little Mermaid."
You haven't really seen this tale until you see it done with live actors and actresses playing out the story underwater at a depth of about 20 feet. The effect is mesmerizing.
The cast includes mostly female swimmers, the Little Mermaid and her friends, and one male swimmer, the sailor who falls overboard, literally, for the heroine. There's a Wicked Witch Mermaid, of course, who provides the necessary plot elements. In the end, love triumphs over evil.
Throughout the performances, all swimmers carry air hoses, and as needed, they take air from the hose and go on with the show, never surfacing until the end of the program.
How they get the air without swallowing any water is a mystery to me. Furthermore, the swimmers do not wear face masks, so they cannot see very well. If any mistakes are made, such as air hoses being misplaced or a prop not being put in its proper place, pandemonium could ensue. Fortunately, mistakes are rare because of the intense training and rehearsals.
After the show, one of the mermaids-in-waiting posed for photos by the side of the spring. She was a lovely 22-year-old blonde named Carey, who had come to the park only a few months earlier. She wore the full mermaid costume, complete with a long, sweeping gold fishtail.
She was from Brooksville, Fla., and also was attending the local community college to become a dental hygienist. She told me she expected her training to last several more months, after which she would be permitted to perform in one of the shows.
She was charming and had a special calmness and tranquility about her that seemed much a part of the place itself. Her eyes were China blue, as blue as the deep blue sea. She said she had come to see the mermaid shows as a child and from that time on had wanted to become a mermaid herself. It's sort of the local equivalent of entering a beauty pageant, except this requires a real talent.
She said she did it mostly because it was fun. Yet several mermaids in the past have gotten parts in movies and TV shows, and my mermaid said she was open to that if it happened.
By this time, the park was getting ready to close. In the off-season, closing time is 3 p.m. I thanked my mermaid for the interview and, after a few more photos, headed for the exit.
So there it was. A real place, and somehow, just as enchanting as it had seemed on "Route 66." Just as enticing as it had been in my dreams. For once, the reality seemed to match the fantasy.
I got about halfway to the exit when I realized I hadn't asked Carey for her last name. I would need it for the story I going to write. I turned and ran back to the spot where she had posed for the pictures — but she was gone. It didn't seem possible she could have disappeared that quickly. I hadn't left her that long ago, and she had been wearing that long gold tail. She couldn't possibly have walked off wearing that thing. So where was she?
Around me, the now-deserted park seemed eerily quiet. Far off and echoing through the trees came the call of a wild bird. I looked around and saw no one. "Carey," I called.
Suddenly I saw bubbles rise in the water, sending ripples out along the surface of the spring. I looked deep down into the water, and I saw, or thought I saw, a long, graceful form moving, like a shadow, way down deep in the spring. Then even that vanished, like a dream.